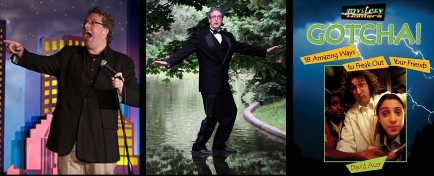 David Acer is a Gemini-award-nominated writer and comedian who has done crazy things on television shows around the world, like protesting outside a train station dressed as a giant penny while inviting people to lie down on the tracks to "see how it feels." And limping to the couch for a talkshow interview with a Denver Boot on his leg because he had "a few unpaid j-walking tickets." He has had his own special on The Comedy Network and appeared on a multitude of international specials, not to mention live at The Riviera in Las Vegas, The Magic Castle in Hollywood, and 11 times at the Just For Laughs Festival in Montreal. He has also appeared three times on CBC's hugely popular series The Debaters.

But younger audiences (and insomniacs) are more likely to recognize him as "Doubting Dave" from the now-syndicated series Mystery Hunters, which garnered him two Gemini nominations (the Canadian equivalent of the Emmys) for Best Writing in a Children's Non-Fiction Series, and the publication of his spin-off book, GOTCHA! 18 Amazing Ways to Freak Out Your Friends, now a Canadian bestseller. GOTCHA! also earned David a Hackmatack Children's Choice Award for Best Non-Fiction and a Willow Award nomination, and has since been translated into French and Danish.

On top of all that, David is a world-class sleight-of-hand artist who has performed and lectured for magicians around the globe. In 2009, The Canadian Association of Magicians named him Magician of the Year, and in 2010 he was featured on the cover of the American magic magazine, Genii, the industry's oldest and most respected periodical. He has also had four books of his orioginal tricks published, the latest, called More Power To You, in 2011 by Hermetic Press (Seattle, WA).
In 2013, David joined the creative team at Canada's Spot On Entertainment, producers of the world famous SuperDogs, and has helped them develop four live touring shows: Disco Dogs, Wild Wild Woof, Hollywoof and Science of SuperDogs. These shows have since entertained over 1 million people at arenas across Canada and David is currently developing more projects with Spot On Entertainment.